Skip to content
White Cheddar Mac and Cheese with Jalapeño Olive Oil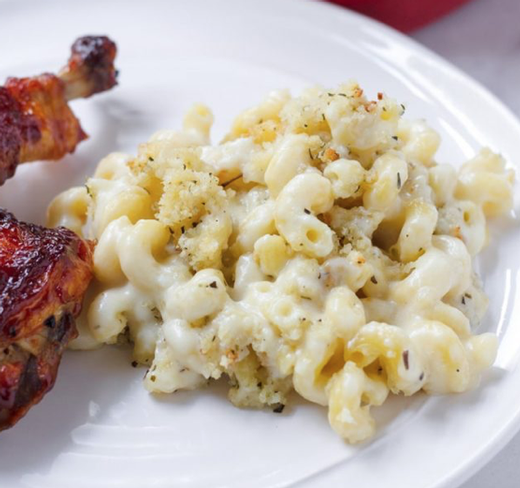 Recipe Date:
April 20, 2022
Measurements:
Imperial (US)
Year-round comfort food!
Ingredients
1 lb Cavatappi pasta
1/2 cup unsalted butter (8 tablespoons)
1/2 cup all purpose flour
4 cups organic whole milk, (more if needed)
12 ozs White Cheddar cheese, freshly shredded (use box grater)
1/4 cup Parmesan cheese, freshly shredded (use box grater)
1/4 cup Gruyere Cheese, freshly shredded (use box grater)
1/2 tsp garlic powder
salt and pepper to taste
1 cup panko bread crumbs
2 tbsps Dry Creek Olive Company Jalapeño olive oil
1 tsp garlic powder
2 tsps Italian herb seasoning
Directions
Preheat the oven to 375 degrees F.
Cook pasta according to package directions. Drain and set aside.
In a large pot or Dutch oven, melt the ½ cup of unsalted butter over medium heat. Once melted, add the flour and constantly whisk for about 3 minutes, until slightly thickened. This mixture is called a roux. Don't rush this process as the raw flour needs to cook. The roux should be a bit pale in color and should begin to smell a tiny bit toasty.
Gradually, add the milk, stirring. Bring to a boil (turn up the heat to medium-high) and then reduce to a simmer for about 3-4 minutes, often stirring until thickened.
Add the freshly grated cheeses and stir until evenly combined. Cook for another 1-2 minutes. Add the cooked pasta (drained) to the sauce and stir until well combined. Season with garlic powder, salt, and pepper to taste. Transfer to a large 9" x 13" baking dish. Set aside.
Make the herb crumbs topping: combine bread crumbs, garlic powder, and Jalapeño olive oil in a food processor and pulse (a few times).
Top the mac and cheese with the prepared herbed bread crumb topping.
Bake for about 25 - 30 minutes until golden brown and bubbly. Let it cool for 10 minutes, and enjoy!
Notes
Special equipment: box grater for cheese, large Dutch oven or pot, 9x13 baking dish and food processor.
Freshly grated cheese. Grate the cheese right before cooking for best results.
Pasta: Cook the pasta al dente (when the pasta is still a bit firm) since it will finish cooking in the oven.
Making the roux: Don't rush through the roux (flour and butter mixture) making process. The raw flour needs to cook for approximately four minutes with the butter to ensure it's not raw. Be sure to stir constantly to prevent it from burning.
Adding the milk: It will take a few minutes for the milk to thicken up, especially while simmering.