Skip to content
Basil Walnut Pesto with Tagliatelle Pasta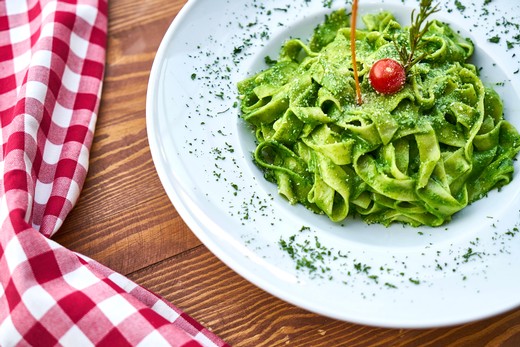 Recipe Date:
July 21, 2022
Measurements:
Imperial (US)
Ingredients
2 cups fresh basil leaves packed
1 cup fresh parsley packed (see note #1)
1/4 cup Parmesan cheese
1/4 cup walnuts (about one ounce - see note #2)
3 garlic cloves (see garlic note #3)
1/2 cup Dry Creek Olive Company Mediterranean Blend Olive Oil
salt and freshly ground pepper
Directions
Add basil, parsley, Parmesan cheese, walnuts, and garlic in a food processor or blender. Pulse until coarsely chopped, about ten pulses.
With the motor running, slowly drizzle in the olive oil and process until smooth—season to taste with salt and pepper.
Notes
Parsley: Basil can quickly turn brown in a food processor from bruising. Add a handful of fresh parsley to preserve the bright green color.
Walnuts: For more flavor, toast the walnuts. Heat walnuts in a medium skillet over medium heat until browned and fragrant, occasionally stirring, about 2 to 5 minutes.
Garlic: Roasting garlic trades its raw heat for a mellow taste and soft texture. To try this option, toast unpeeled garlic cloves until spotty, dark brown, and slightly softened for about 20 to 25 minutes in a dry medium skillet over medium-low heat.
Yield: This recipe makes 1 cup of pesto, enough to dress 1 pound of pasta.
Storage: Store covered in the refrigerator for up to 4 days (add a layer of olive oil on top to prevent oxidation).
Freezer: Pour into a jar and top with olive oil to prevent oxidation. Leave enough head space at the top of the jar for expansion, then freeze for up to 6 months—thaw overnight in the refrigerator.
More nuts: Traditional pesto sauce is made with pine nuts, or you could substitute an equal amount of almonds, pecans, cashews, or even hazelnuts.
Spicy: Add 1/4 teaspoon or more crushed red pepper flakes to the food processor before blending.
Kale pesto: Omit the parsley, decrease the basil to 1 cup, and add 2 cups of packed kale leaves. Proceed with the recipe as written.
Pesto roasted chicken: Rub pesto under and on the skin of your next whole bird, then toast to perfection.
Pesto cheese bread: Slice a loaf of bread in half lengthwise, then spread a thick layer of pesto. Top with cheese, then finish in the oven or on the grill.